Applicants must use their legal name to apply through CaRMS. If an applicant has legally changed their name, they need to upload the documentation showing their change of name as an extra document and assign it to programs.
This allows programs to understand why some documents may appear with one name while others show a different name.
Examples documents that prove a change of name:
marriage certificate(s)
common-law relationship certificate(s)
court order issued in or outside Canada, such as:

separation agreement
divorce order/judgment

certificate(s) to dissolve a registered common-law relationship
resumption of surname certificate(s)
Furthermore, you can change your name in your CaRMS Online account at any time. Simply log into your CaRMS Online account, click on your name located at the top-right and select "User Information", as pictured below.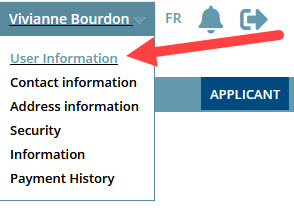 Once the changes have been made, click "Save".